Gas Line Repair and Installation Service
The Plumbing Source, LLC is your #1 Choice for Gas Line Services.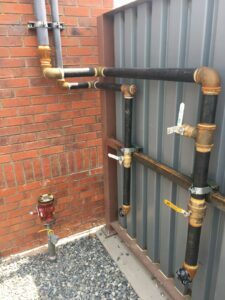 Natural gas is an excellent heating and energy resource to use in your Highlands Ranch, CO home. However, the gas line must be well-maintained and working properly to guarantee maximum efficiency. Not to mention that poorly-installed or malfunctioning gas line can be downright dangerous for the house and everyone living in it. The Plumbing Source handles residential gas line installment and repair services as you need them.
Are you going to install a new oven, an outdoor kitchen system or a new gas furnace? We can install new gas lines with the efficiency and reliability provided by our gas line service specialists. We use high-quality materials and tools and ensure that we install the gas line correctly and safely the first time.
Because of the flammable nature of natural gas, it is important to keep a well-maintained gas line. If you smell sulfur, hear hissing noises, or notice that the gas line is cracked, damaged, or highly corroded, you may have a gas leak. Evacuate your home and call the local authorities to handle the emergency. Once the situation is handled, contact our experts to assess the situation and take the best course of action to repair your gas line as quickly and efficiently as possible.
Call The Plumbing Source for Affordable, Reliable Plumbing
We've been taking care of plumbing problems for residents and businesses in Highlands Ranch, Parker, Lone Tree and south Denver since 2008, and are proud of our A+ Rating at the BBB. We have great reviews on Google and Yelp, and guarantee all plumbing repair. The Plumbing Source, LLC – plumbers you can trust.
Need a Plumber? Give Us a Call
A+ Rating at the BBB

Contact Us
5922 E County Line Rd. Highlands Ranch, CO 80126
303-694-4306
[email protected]
tpscolorado.com
5922 E County Line Rd.
Highlands Ranch, CO 80126