Local, Family-Owned Plumbing Repair Service
The Plumbing Source, LLC  – Your Whole House Repipe Experts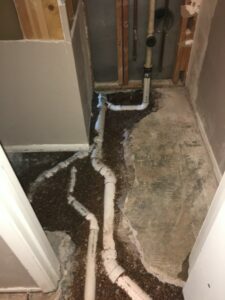 Do you live in an older home that has constant plumbing problems? Are your pipes leaking or is your water discolored or smelly? Homes used to be piped with galvanized water supply lines, and over time these pipes can deteriorate causing yellowish-brown water, decreased pressure, or systemic leaks. If you have any of these plumbing issues, give the professional plumbers at The Plumbing Source, LLC a call. We'll do a complete analysis of your plumbing system and recommend a solution that fits your budget and needs. Our plumbers will replace all of your home's piping and make sure everything meets current building codes, then we'll flush and test the system to ensure new pipes work properly.
When Should Homeowners Consider a Whole House Repipe?
You have an older house with original plumbing
Your pipes are corroded or failing
Discolored, yellowish brown water
Excessive leaking is a constant issue
Repipe Options
There are a couple of options available to homeowners when considering a complete home repipe, and the materials you choose will depend on your budget and needs.
Copper:  If you currently have old pipes that are made of galvanized steel, then the standard for water pipes is copper. This type of metal is used because of its durability and its resistance to rust and corrosion. However, this is a more expensive option.
PEX:  This is a flexible, plastic pipe that is much cheaper to buy and easier to install than copper – it also resists corrosion and freezing more than other types of piping. This type of pipe is becoming standard in new construction and can help save you money on your repipe job.
Older homes may be in need of re-piping.  We have worked with new home builders for years and installed piping throughout entire subdivisions.  Trust the experts at The Plumbing Source to re-pipe your home.
Think you need to repipe your house? Call Duane or Steve at The Plumbing Source, LLC.
Whether you're looking at a whole-house repipe, need a leaky faucet or toilet repaired, or are remodeling your kitchen, our experienced plumbers are ready to help.
Need a Plumber? Give Us a Call
A+ Rating at the BBB

Contact Us
5922 E County Line Rd. Highlands Ranch, CO 80126
303-694-4306
[email protected]
tpscolorado.com
5922 E County Line Rd.
Highlands Ranch, CO 80126