Blocked Sewer Line and Clogged Drain Cleaning
Sewer Backed Up? Drains Clogged? Give Us a Call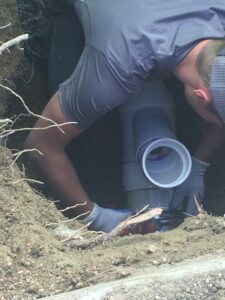 Slow drains or blocked sewer line? Give the expert plumbers at The Plumbing Source, LLC a call and we'll have everything flowing correctly in no time. We've been serving Littleton, Highlands Ranch and Parker since 2008, and have the expertise and knowledge to get the job done right the first time. And, all plumbing repair work is 100% guaranteed! We have great reviews on Google, Facebook and Yelp, and look forward to earning your trust.
From slow-flowing drains to damaged sewer lines, we're the local's choice when it comes to plumbing repair and service.
Our friendly, professional plumbers will unclog your sink or bathtub drains and make sure that they're draining quickly and properly. We will take care of any grease clogs in your kitchen or blockages in your main bathroom drains, and we can even provide preventive maintenance plans to reduce the risk of clogs occurring again. All work is guaranteed, so you can rest easy knowing that once we fix a problem, it stays fixed. Clogs happen, and when they do, call The Plumbing Source to get the job done right.
If something smells funny in your house, you may have a sewer line problem. If this is the case, we will inspect your floor drain to make sure the trap is working correctly, and use several different pieces of equipment and technology to find the source of the problem and solve it right away. Sewer gas can be dangerous, so you want to be sure to take care of it as soon as possible. Sewer line and sewer tank problems are stressful and uncomfortable, and you want a plumber who can get the problem fixed quickly and efficiently. Don't wait, call The Plumbing Source today.
Call now for expert plumbing repair service.
Need a Plumber? Give Us a Call
A+ Rating at the BBB

Contact Us
5922 E County Line Rd. Highlands Ranch, CO 80126
303-694-4306
[email protected]
tpscolorado.com
5922 E County Line Rd.
Highlands Ranch, CO 80126